Most who enjoy traveling have a bucket list of experiences around the world we want to do before we no longer can travel. Italy is a country with so much to offer its visitors from architecture, art, food, wine, to unique experiences only found there. This list compiles the ultimate Italy Bucket List experiences that you should try to plan into your journey through Italy!

Note: I may earn a small commission on anything purchased via the links below.  This helps to keep the blog up and running.  I only recommend activities/products that I have used personally and think would help make your journey more enjoyable!  
Table of Contents
Take a Venetian Mask Making Class
This is an unforgettable experience. Do not worry about not having art skills or painting skills. The shop owner Giorgio walks you through step by step how to create a beautiful Venetian Mask. He puts on the final flourishes making sure you have a mask you are happy to show everyone as your favorite souvenir from Venice.  
Here is the link to the class I booked through Viator: Click here to Create Your Own Venice Carnival Mask
Gondola Ride through Venice and the Grand Canal
This is a pricey bucket list item, but it is a once in a lifetime experience for most and should definitely be on your Italy Bucket List! Depending where you depart from in Venice, the gondolier may ask that you pay more for a longer ride to go into the Grand Canal. The ride is very relaxing when you choose a gondolier starting a few canals over from the Grand Canal. The views are amazing. In fact, the photographs you are able to take in the smaller canals and of the Rialto Bridge were worth the cost to me.
Also, the gondolier took a few photos of my husband and me to have as a memory of our journey through the canals. Our experience in Venice was far superior to anything you could get at the Venetian in Las Vegas, even when they sing 'Bella Notte' in Vegas.
Watch the sunset from Piazzale Michelangelo in Florence
The view from Piazzale Michelangelo overlooks the city of Florence. It is a breathtaking sight to see. You will want to look online to find out what time the sunset will be the evening you choose to go. Arrive at least 30 minutes before sunset. Since it does get crowded come earlier, if you can, to get a good spot to watch the sunset and take photos. Even if the sunset is not amazing that evening, you will not be disappointed by the view of Florence.
Visit the Leaning Tower of Pisa
Visit the Leaning Tower of Pisa and take photos pushing it back up, squishing it, or any fun photo op. What tourist does not dream of doing this? Indeed it is all about perspective and having someone who is willing to go for all the angles to figure out a good shot. You may not get the "perfect shot," but just have fun and you can people watch all the other people getting their bucket list picture too. I thought I was going to squish it in my fingers and my husband thought this was hysterical. Picture for proof of how off my perspective was with that one lol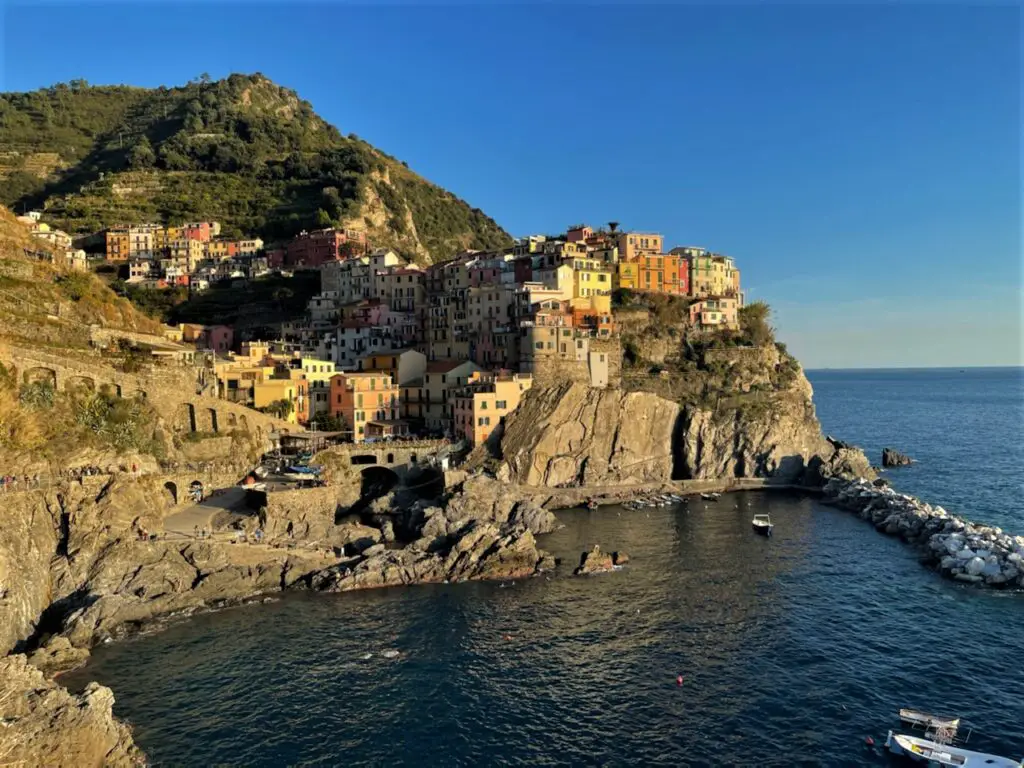 Visit the 5 towns of Cinque Terre
Visit the 5 towns of Cinque Terre– Manarola, Vernazza, Monterossa, Corniglia, and Riomaggiore. I found it fun to try to figure out which Cinque Terre town looked the most similar to the town in the Disney movie Luca. Which do you think Luca was based off?
Hike between towns in Cinque Terre
The is a difficult, but beautiful hike. Make sure to dress for a hike and pack for hiking even if you only bring a carryon. There are many elevation changes and many stairs. Therefore, you do not want to do this in jeans and a dress shirt, trust me. It does require a Cinque Terre Card to hike on some of the trails like Corniglia to Vernazza. There are points where a park staff will check to confirm you have your pass.
Soak in Saturnia Hot Springs/Cascate del Molino
This is a bucket list item for touching water from a hot spring and soaking in water from a hot spring as well. If you have been researching things to do in Italy, you have probably seen a beautiful hot spring that almost looks unreal. It is worth the visit and worth the drive either from Pisa or Rome. You will need a rental car or private transportation to get to Saturnia because it is in a rural area in Tuscany.
Wake up early to visit the hot springs around sunrise to get some time with very few other people there. When we first arrived as the sun was rising, there were only a few other people there. We stayed long enough that there were about 30 people by the time we left. Warning, the water does smell like sulfur and some say there are red worms in the water. We did see a few red larvae looking things in the water that I'm assuming were these bugs. Fortunately, we did not have any issues with them.
Go in the Rome Colosseum to see where the gladiators fought
When you think of Rome, you think of the Roman Colosseum. This should be on everyone's Italy bucket list. When you purchase tickets for the Colosseum, purchase the tickets well in advance and book directly through the https://www.coopculture.it/en/ site (not via a third party site where you are paying someone extra for the tickets and a tour). Be sure to plan ahead if you want to have the full experience including access to the arena and underground of the Colosseum because this ticket is only available on specific days.
Walk up the Spanish Steps
Have you seen the Lizzie McGuire movie? Well, if you have then you know why this would be on a girl's bucket list. If you want some pictures without half of Rome, go early in the morning before sunrise. We were there at 6:00AM on a Sunday morning and had the Spanish Steps to ourselves. At about 6:15AM, other people started showing up.
Toss a coin in the Trevi Fountain
This is a must have for anyone's bucket list because they say if you toss a coin in the Trevi Fountain, then you will return to Italy one day. Who is going to mess with a fate like that? I like my odds with this one. Besides, the Trevi Fountain is beautiful and the architecture of the fountain is exquisite! The fountain gets crowded. Arrive early to get the best photos or videos to prove you have to come back to Italy!
Take a Cooking Class in Italy
So, when in Italy, half the trip is about eating the delicious food. What is even better than just eating the Italian food? Learn how to make it yourself from an Italian chef! This is an experience you will never forget. You will meet other people in the class that you will never forget either and learn more about their cultures. In our class, we went shopping at an outdoor market called Campo de Fiori and learned how to pick fresh ingredients for the meal. The chef sends you the recipes to have when you get home. This was such an amazing experience and the most fun I've ever had cooking with my spouse! He actually enjoyed it too.
The cooking class we took in Rome was called Chef in a Day.  Here is the link where we booked through Viator: Click Here if you would like to book this class through Viator or find a similar class in Italy.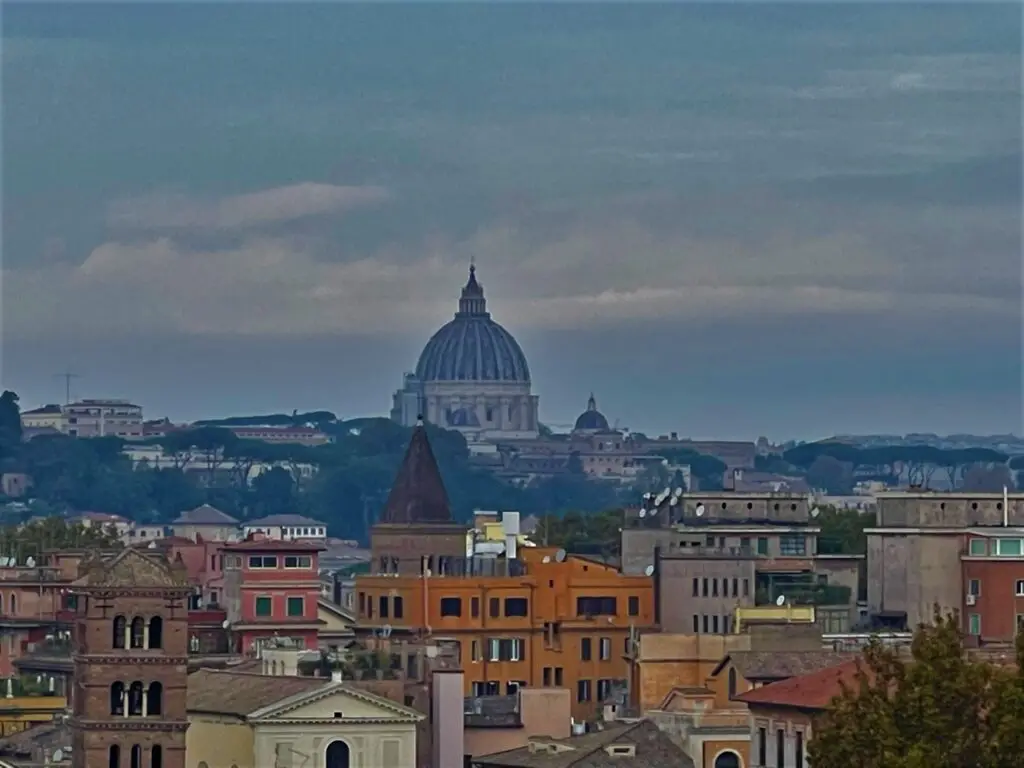 See Rome through the Aventine Keyhole
This is such a unique experience that you have to see for yourself. If you are seeing Rome by foot, it is about a 30-45 minute walk from the main attractions. You can also look into taking public transportation. If you go early in the morning, you may find yourself looking through many keyholes as we did until we found the correct one. Then, a line quickly formed behind us around 8:10am on a Sunday morning. The view is spectacular and take your time using zoom to really get a good photo of the view.
Photograph Italian Architecture
This may sound so simple, but this type of architecture is not lining the streets in the Midwest United States. From the amazing bridges in Venice, the architectural wonders built in Florence, the leaning tower of Pisa that still stands, to the Colosseum in Rome…. the Italian architecture is magnificent. Take all the photos to reminisce on the beautiful sites you saw and where you would most like to return!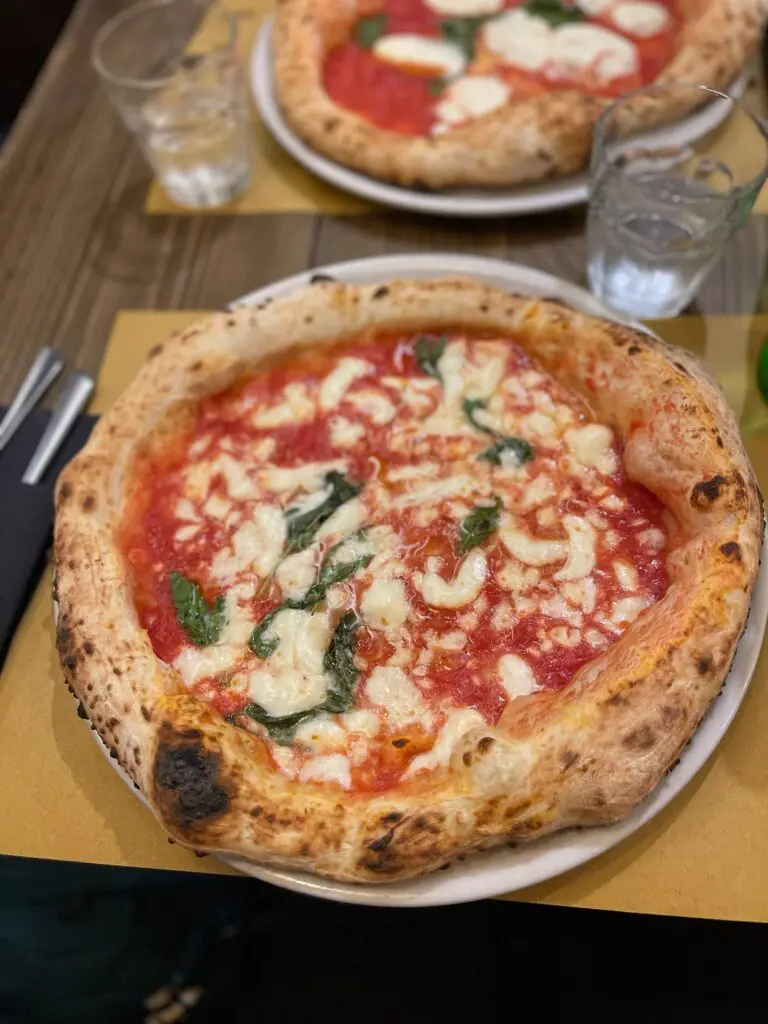 Eat Pizza in Naples
Of course, everyone says that pizza as we know it today originated in Naples. Any pizza lover should have this on their bucket list. For such a simple looking pizza, pizza margharita has so much pure Italian flavor and you should definitely try it at least one time. Whether you do that in Naples or not, you decide!
Drink Wine in Italy
Italy is home to the best wines! Whether you prefer sweet wine or dry wine, Italy has something for everyone. The really sweet wine like Moscato d'Asti is made in the northwestern region of Piedmont, Italy. You are able to find bottles of Moscato d'Asti at restaurants in Venice, Rome, and other large towns outside of the Piedmont region. The wine may be very similar, but have another name like fior d'arancio colli euganei. Therefore, asking your server is the best bet to get a wine similar to your favorite.
Tuscany is another great region for wines. Unlike Piedmont, Tuscany is best known for dry red wine made from the Sangiovese grape. The Veneto region, near Venice, is popular for white wine. Most notably Veneto is known for Prosecco.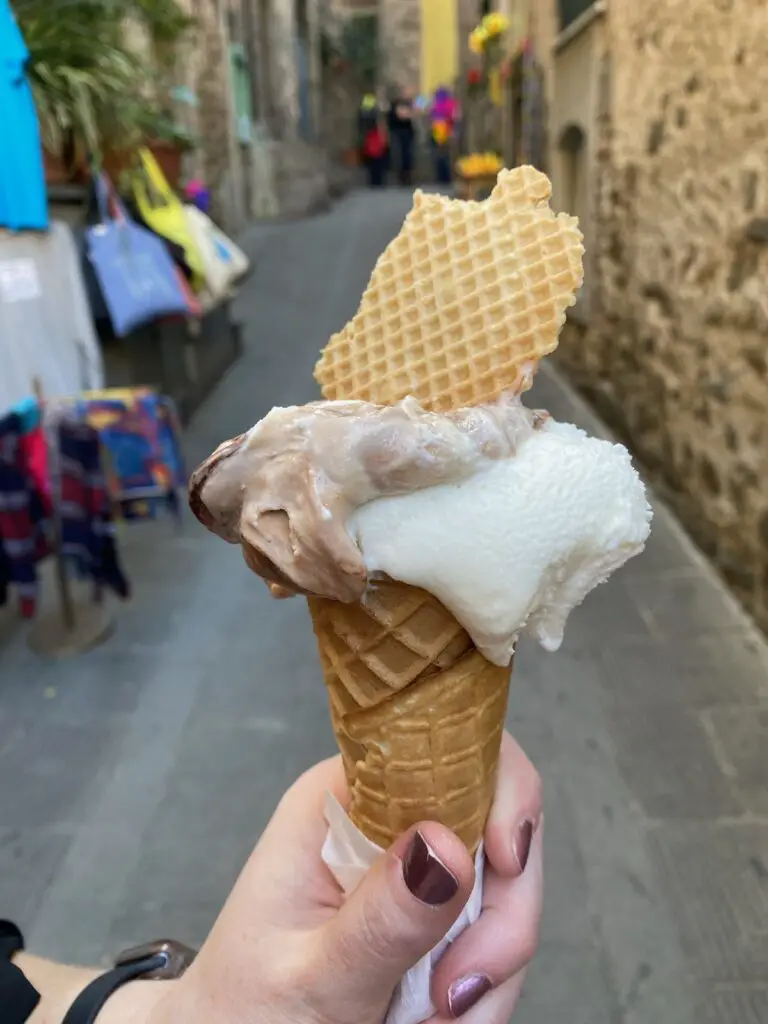 Eat a Cannoli or gelato in Italy (your preference)
No matter where you visit in Italy, you should be able to find a bakery with cannolis or a gelateria. Even many small towns have gelato for dessert at restaurants. I would definitely recommend making the trek to a real gelateria or a real bakery for fresh cannolis! Our favorite cannoli in Italy was the Sicilian cannoli from Gino's Bakery in Florence. Our favorite gelato was the Nutella gelato coupled with the local honey flavor from Gelateria Corniglia in Cinque Terre.
Visit the Stunning Amalfi Coast
Visit the Stunning Amalfi Coast where the cities look straight out of a painting with the beautifully colored buildings, flowers, greenery, and blue water all connecting as one. The Amalfi Coast has wonderful places to visit such as Positano, Ravello, Capri, Amalfi, etc.
There are a few options on how to access the coast. You can either obtain a rental car or pay for private transportation. Due to the roads on the Amalfi Coast and our choice to stay in Positano, we payed for private transportation from Naples to Positano. There were day trip options by boat to Capri from Positano, but be careful the boat doing the day trips was closed due to rough water the day we planned to go. There is also a SITA bus you can take between cities on the Amalfi Coast to visit all the main cities.
Go to the Beach in the Amalfi Coast
The beaches are breathtaking in the Amalfi Coast. When the sunlight hits off the blue water and you can see the town above the beach, it is a beautiful thing. If you would like to swim in the sea, the best time is between June to early October. We visited in late October/early November and the water was pretty cold in Positano so we did not get in. The view was well worth it though! Positano also had colorful bits of sea glass in the sand, which was a fun little surprise to find there.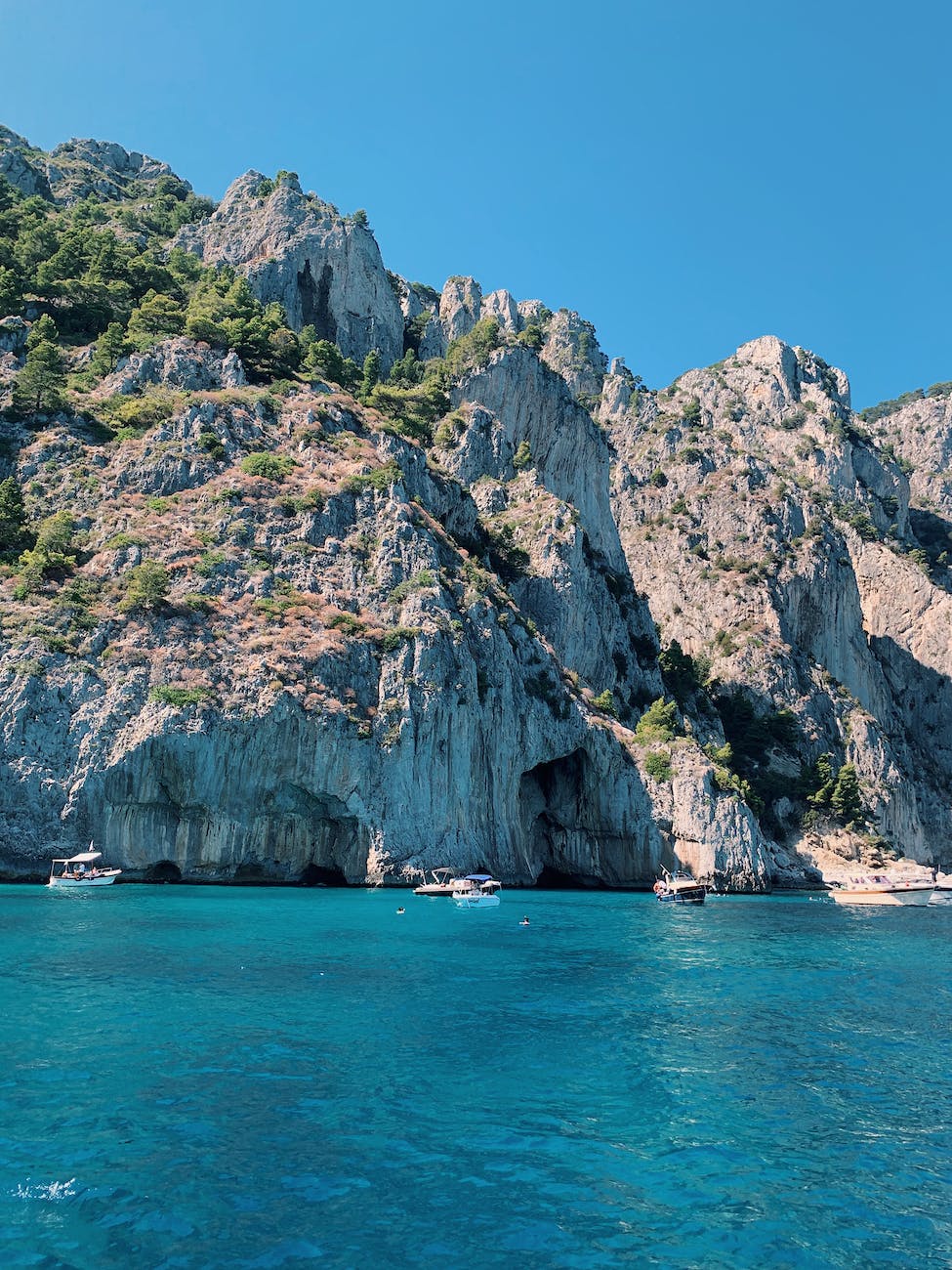 Visit Capri Island and Take a Boat Ride into the Blue Grotto
Photos of the boat ride through the Blue Grotto look like something out of a dream! There are day trips and excursions from many cities in the Amalfi Coast to Capri. This is still on my bucket list as we were not able to make the day trip due to water conditions in early November.
Overall, there are so many unique experiences to try in Italy. Use this list of Italy Bucket List items to help plan your perfect journey through Italy. You will want to decide what areas to prioritize and what is truly on your bucket list! Slow down and do not try to do too much. You do not want to spend your entire journey through Italy on a train between cities and not really get to see Italy. Remember, if you make it to Trevi Fountain and toss in that coin, you are said to return to Italy one day! We are hoping to make that day trip to Capri and the Blue Grotto so I hope that is true!!
For more posts on Italy check out Restaurant Tips in Italy and Best Cities in Italy for Foodies!