You may already be asking yourself, can I do Cinque Terre in two full days? Yes, you can. It is up to you if you plan to do a 2 day highlights visit or whether you would like to stay and relax a bit in the picturesque Italian Riviera. This is an itinerary for Cinque Terre when you may be short on time or checking off that bucket list- just 2 days in Cinque Terre. If you decide to visit over the winter months, you may only need one day.
Note: I may earn a small commission on anything purchased via the links below. This helps to keep the blog up and running. I only recommend activities/products that I have used personally and think would help make your journey more enjoyable!
Table of Contents for 2 Days in Cinque Terre
What is Cinque Terre?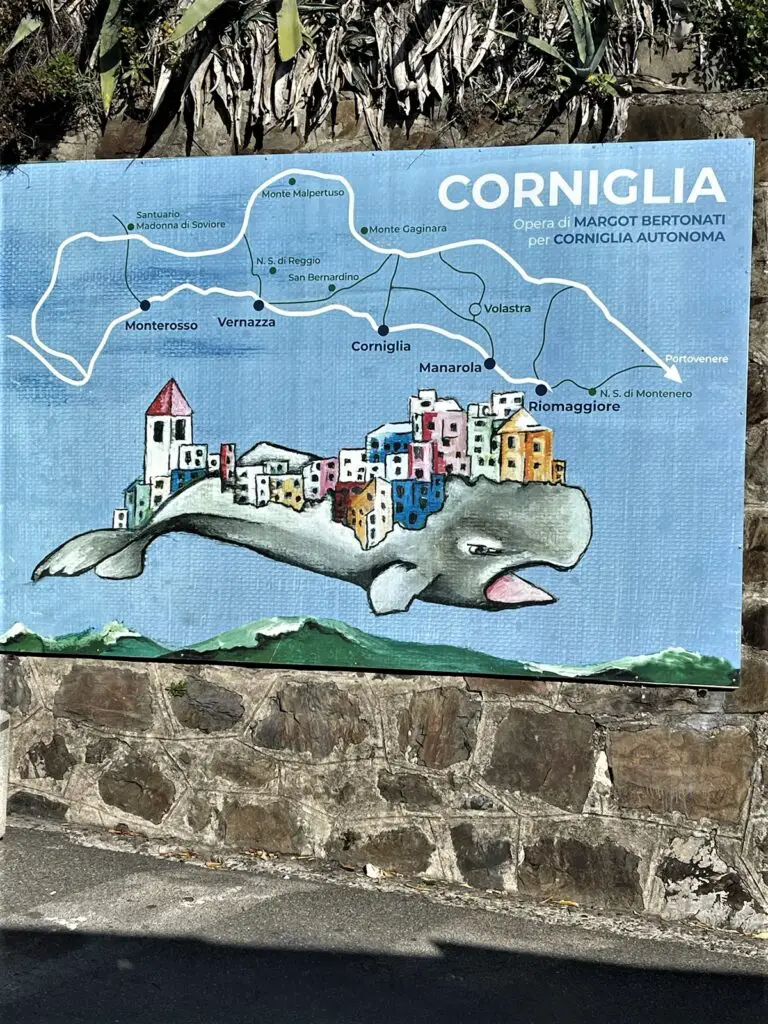 Cinque Terre is translated to Five Lands in English. Cinque Terre is comprised of 5 coastal towns on the Italian Riviera: Monterosso, Vernazza, Corniglia, Manarola, and Riomaggiore.
Where to stay in Cinque Terre
The two largest towns in Cinque Terre are on the northernmost end, Monterosso, and the southernmost end, Riomaggiore. These are both great options when choosing a guesthouse, hotel or bed & breakfast.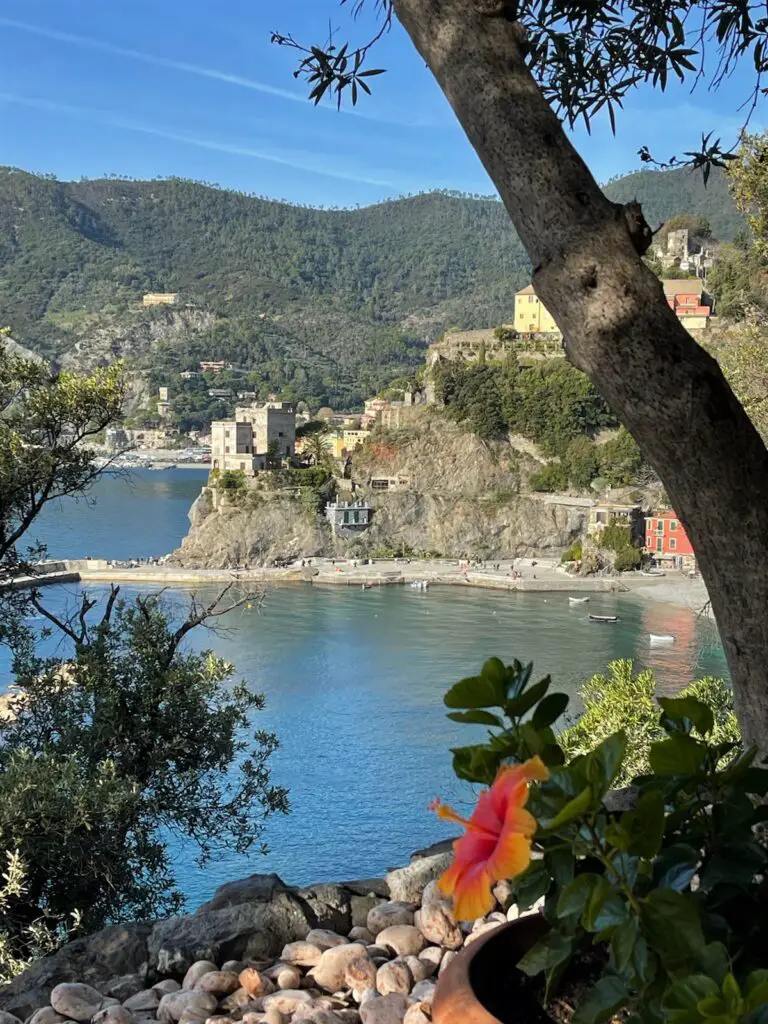 Monterosso
In Monterosso, I recommend staying in Hotel Porto Roca. The hotel offers taxi shuttles to transport you up the cliff to the hotel. Also, the shuttles will bring you back down to the town and to the beach. There are so many wonderful things I could say about this hotel and we loved it for our honeymoon! The view is incredible.
You can see the sunset, the town, and the coastline all from the hotel. Furthermore, there are two bars and a restaurant on site. There are great amenities, such as private beach access and private access to the blue trail. If you are interested in booking or further reviews on Hotel Porto Roca for your stay in Cinque Terre, here is a link to their booking.com page. Hotel Porto Roca
Riomaggiore
In Riomaggiore, I recommend staying at Scorci Di Mare. This guesthouse is conveniently located close to the train station and near restaurants. The view of the colorful buildings that line the water and the coastal marina is beautiful. Many rooms have an amazing balcony view as well. If you want to have food options close to your hotel door, this would be a great place to stay! If you are interested in booking Scorci Di Mare in Riomaggiore, here is the link to their booking.com page. Scorci Di Mare
Itinerary for 2 days in Cinque Terre
Day 1
Note: If you plan to do the recommended hike, be prepared. It is not a simple walk in the park. There are some strenuous inclines. In the morning, bring your hiking gear with you in your day pack. I suggest bringing, at minimum, sunscreen/sun protection, comfortable shoes for hiking, comfortable/weather appropriate hiking clothes, water, first aid, medications (prescribed inhaler if needed), camera, and your phone just in case.
Always start off your day with breakfast. If staying at Hotel Porto Roca, definitely eat the included breakfast there. Each day they have many options for pastries, yogurt, beverages, fruit, etc. Another option in Monterosso is Bar Lo Spuntino. They have wonderful pastries and you can eat overlooking the Monterosso Bay. On the other hand, if you stay in Riomaggiore, Britta Take Away is a yummy option. The take away offers smoothies, smoothie bowls, toasts (like avocado toast), etc.
After fueling up, head to the train station. For this itinerary, having a Cinque Terre Card will save you time and money. At the train station, you will purchase a Cinque Terre Train Card at Tourist Information Points called "Cinque Terre Point." You can purchase a 2 day pass to access unlimited Cinque Terre trains/hiking/train restrooms for 33 euro. A one day pass is 18,20 euro.
Based on how many towns you decide to travel between the second day, you may only want a one day pass. Additionally, consider that during off season November 6-March 17 you may want to skip the card. A hiking pass is not needed and train tickets are reduced fare so the card is likely not needed.
Next, validate your Cinque Terre Card at a Trentailia machine. This should stamp a validation on the card/ticket. You do not want to receive a fine because you forgot to validate.
Riomaggiore
Take the train to Riomaggiore. There are many things to see in town- churches, a castle, the waterfront, and beautiful streets lined with the iconic buildings we have come to know and love in the Riviera.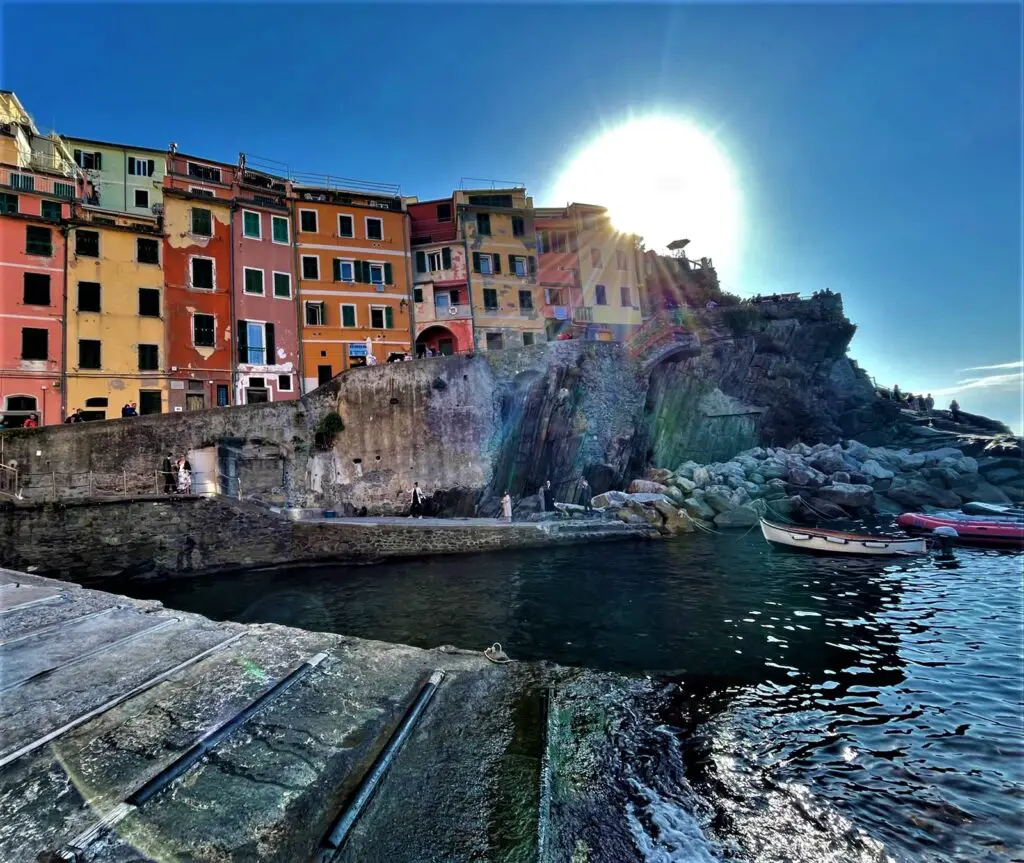 L'oratorio Di S. Maria Assunta O Dei Disciplinanti- The Oratory of St. Maria Assunta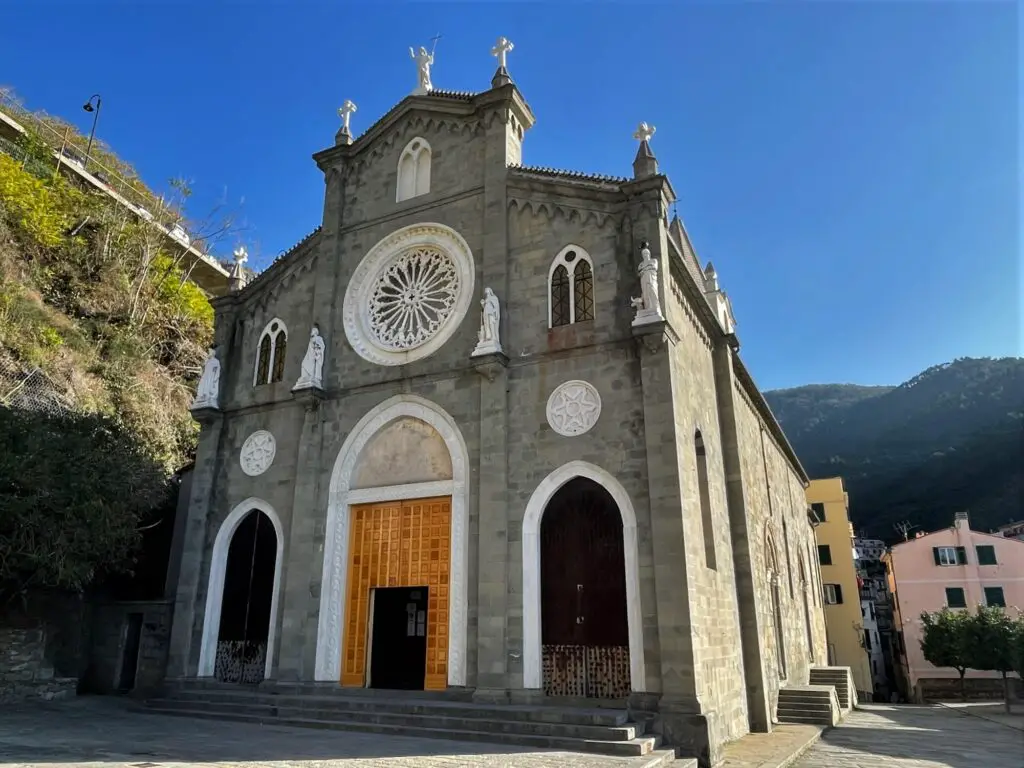 Church of San Giovanni Battista- Church of Saint John the Baptist (There was a sign that indicated no photos inside.)
Il Castello- The Castle. The view from the castle is breathtaking to see a different view of the town from a high vantage point.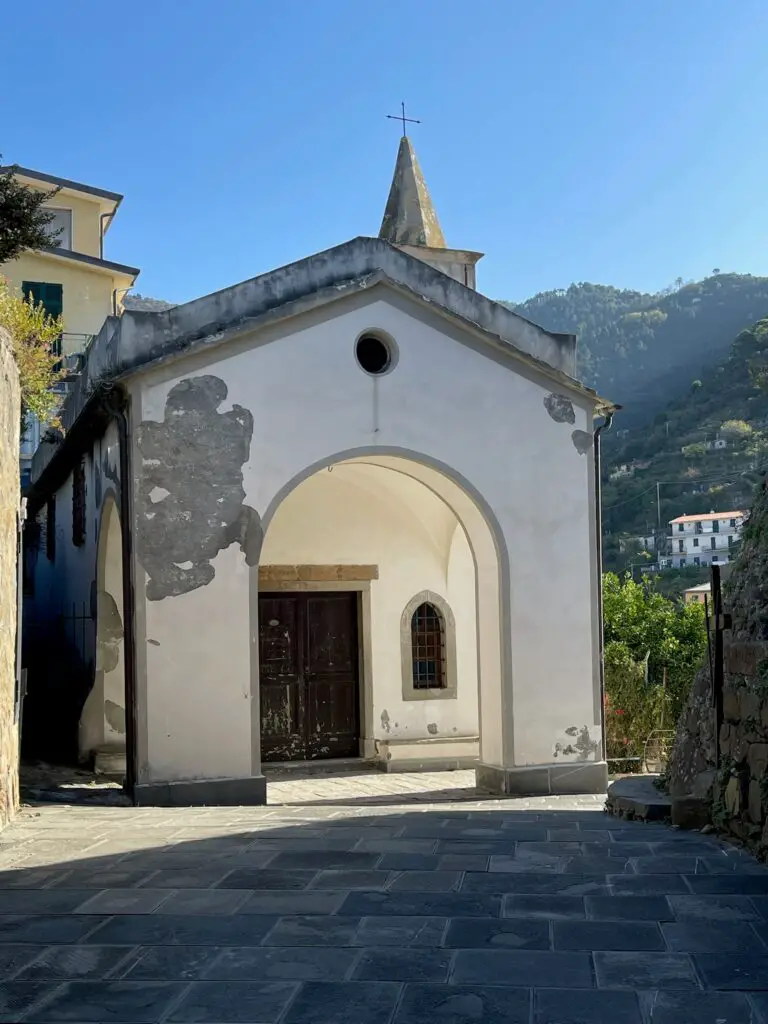 Oratorio di San Rocco- The Oratory of Saint Rocco located near the base of the castle.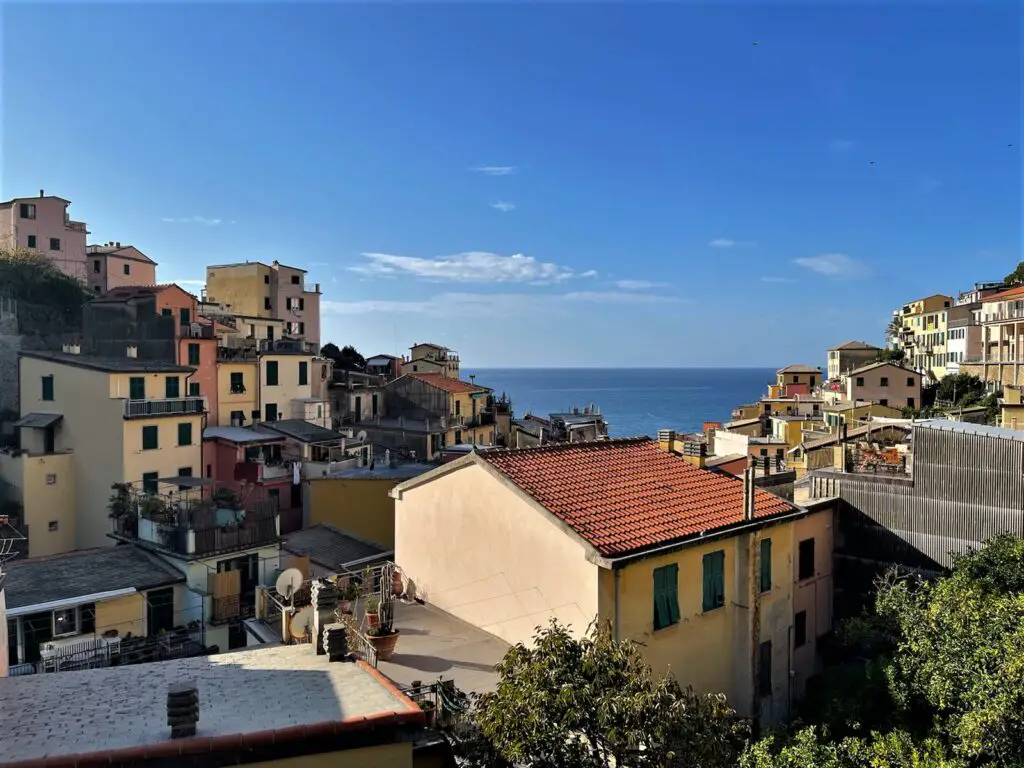 Also, just enjoy strolling through the streets and shops in town. It is a beautiful town.
Corniglia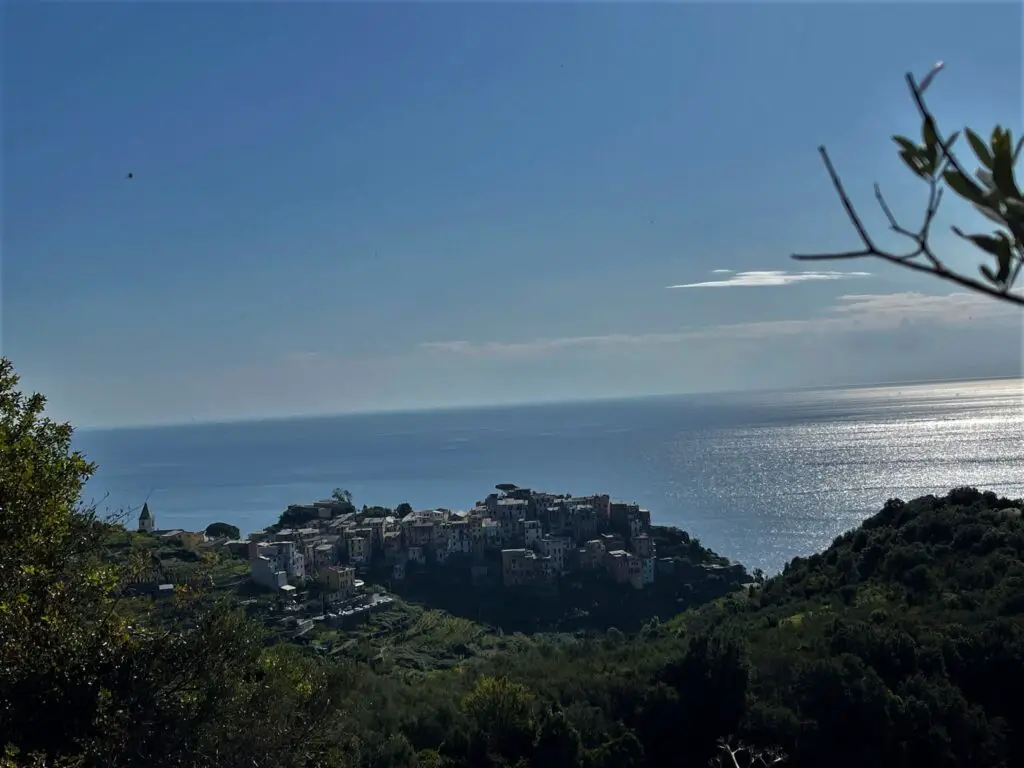 Then, take the train to Corniglia. Unlike the previous towns, Corniglia is the least crowded and least touristy town. Once you leave the train, choose to take the bus into town or take the 382 steps to town. Since our next activity is hiking, you may want to opt for the bus. This is a great place for a quick bite to eat because there is not much to explore in town.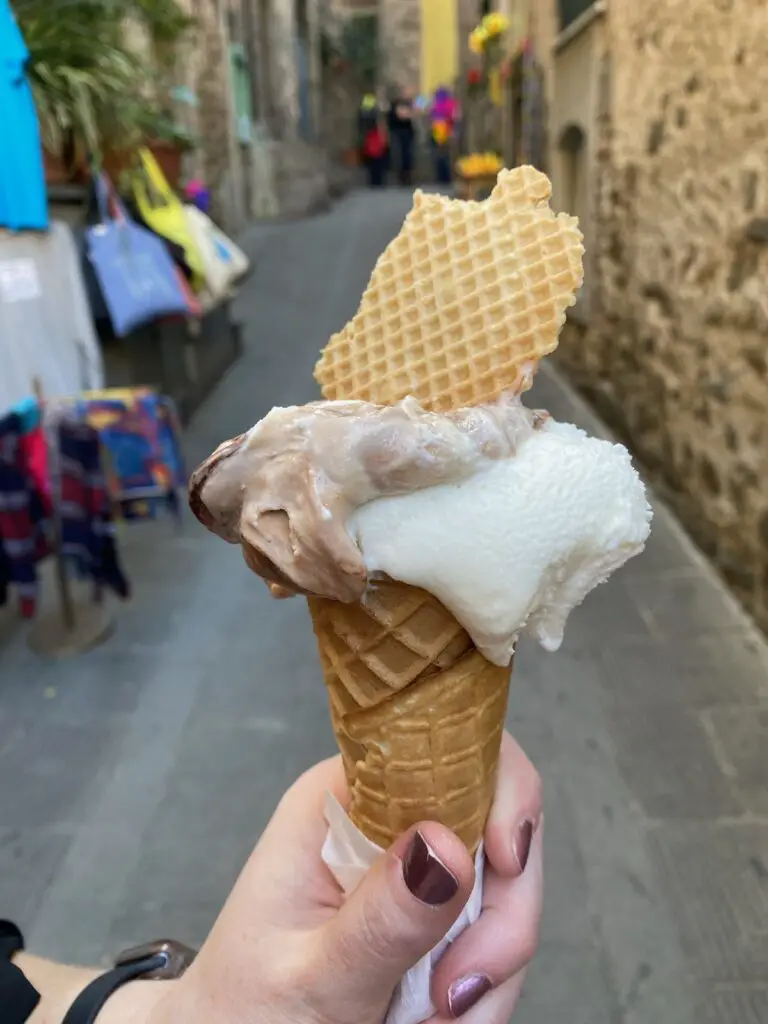 Once dropped off from the bus, head to grab a quick snack or the best gelato in Italy as voted by me. Gelateria Corniglia was the most delicious fuel for a hike. Hands down, I wanted Nutella so they recommended the local honey with walnut as the second scoop. These were very good together, but that Nutella though… I still look for something similar at every gelateria I visit. For a real regional flavor, try basil and lemon. It is worth trying when in Cinque Terre, but may not be your fave if craving something sweet-tasting.
Corniglia to Vernazza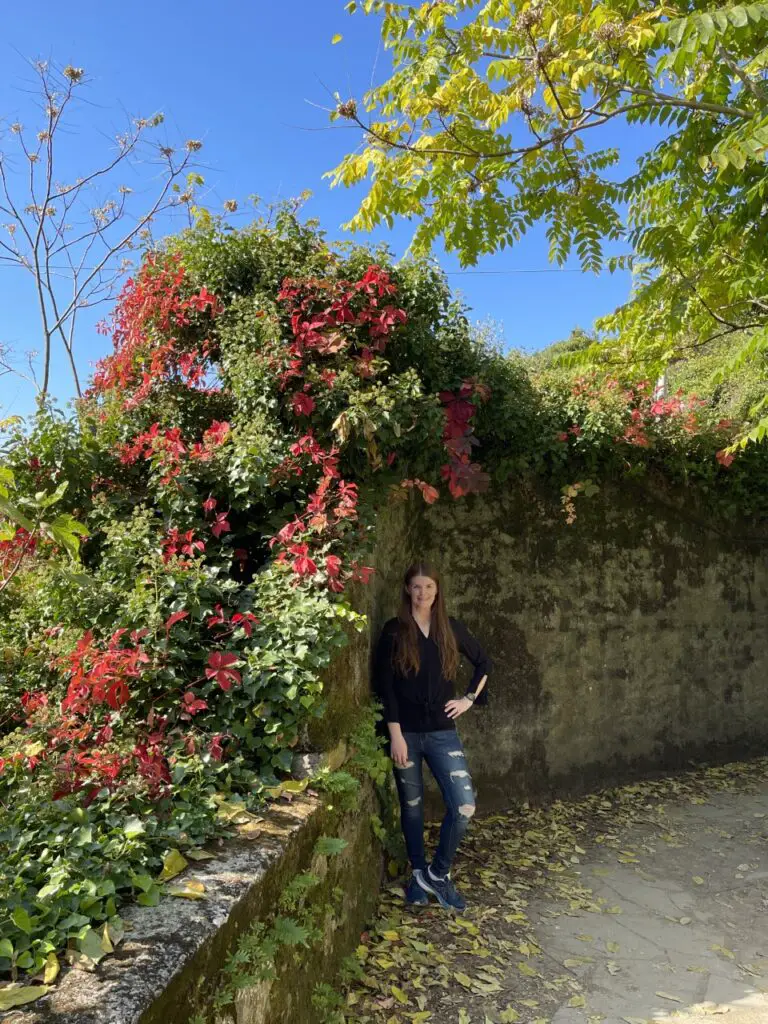 Corniglia is so small, it would be hard to miss the sign with an arrow to Vernazza. Head out this way to begin the hike from Corniglia to Vernazza. I severely underestimated this hike due to the short length, but it was fairly strenuous for someone in skinny jeans who forgot their inhaler. I swear that I have hiked before and am experienced, but you know… trying to be cute on the honeymoon lol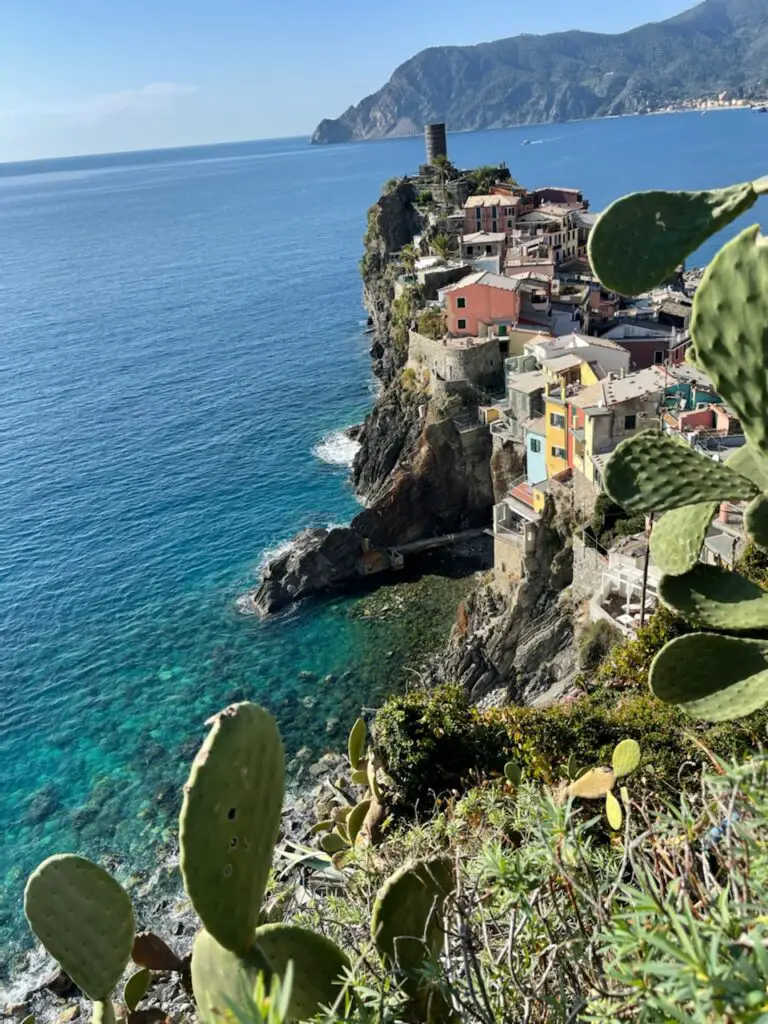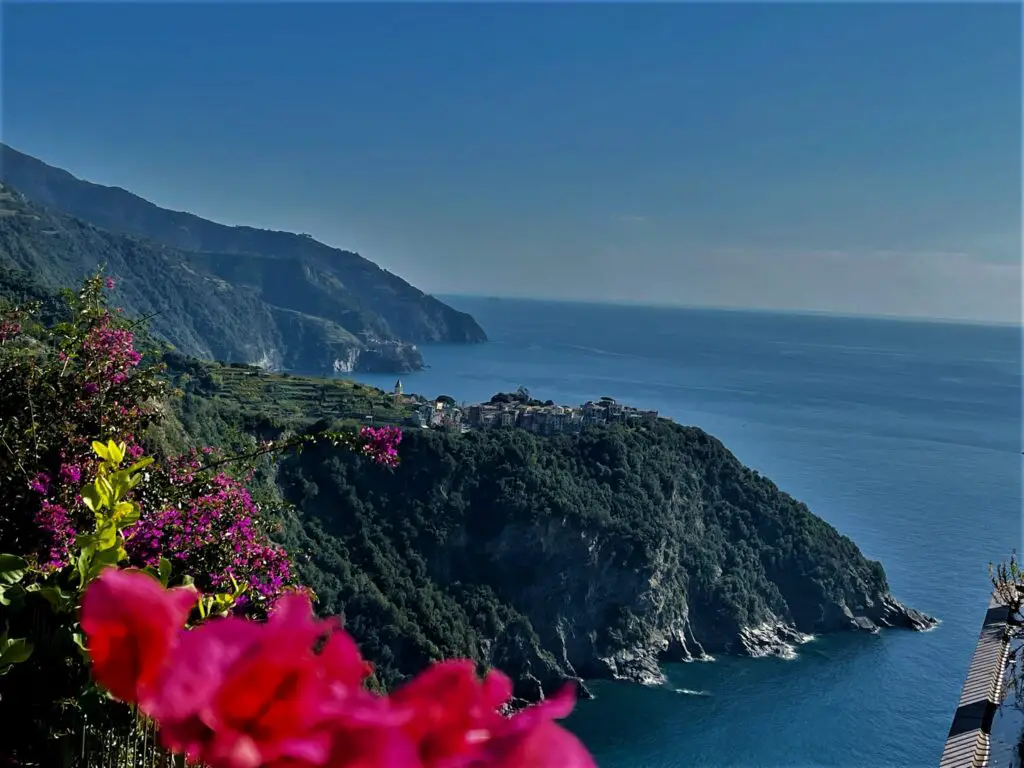 Once you see those coastal town views of Corniglia and Vernazza, it makes every step worth it! It is an incredible journey with landscapes I thought I would only see in magazines. When closer to Vernazza, there are a couple places to stope for a drink or snack along the trail. Many other hikers stopped for a drink and savored the view.
Now you have arrived in Vernazza, but you can skip the town for now. Day 2 will further explore Vernazza.
Manarola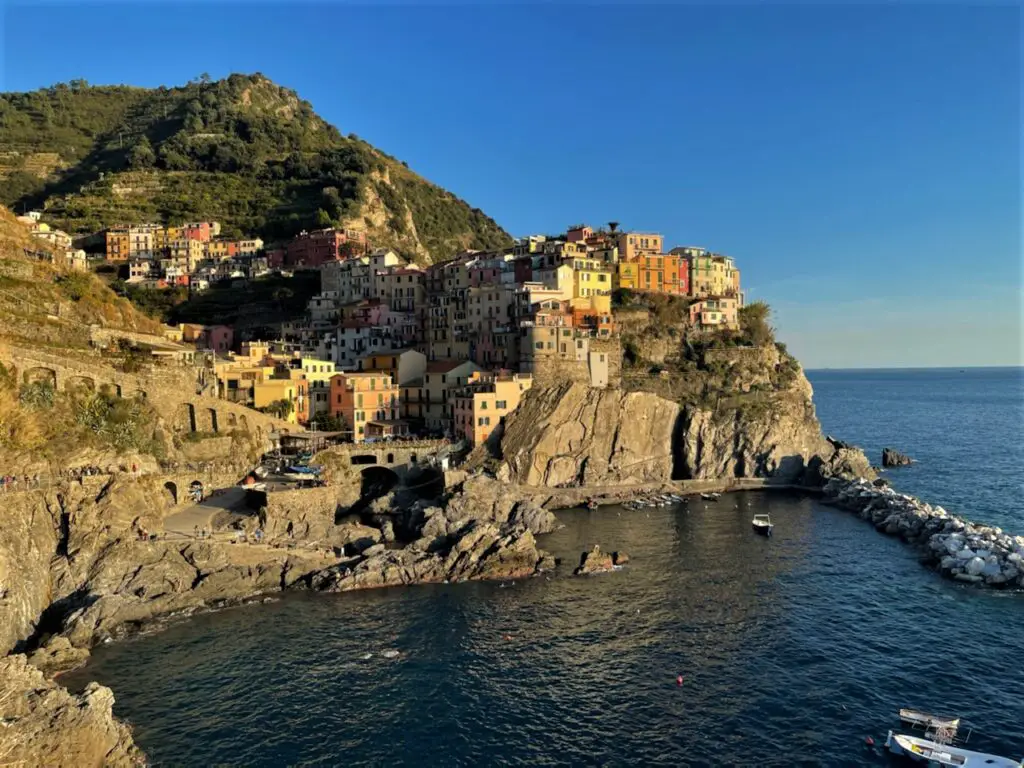 Next, take the train to Manarola. You are probably getting fairly hungry if you are not starving by now. Once you arrive, walk along the path up the cliff to Nessun Dorma. It is nowhere near as steep as the hiking trail. In the late afternoon, the wait is fairly short. The restaurant has tables set up overlooking the town and sea. This is an amazing place to see the sunset, have appetizers, an aperitivo, or dinner depending on the length of your hike.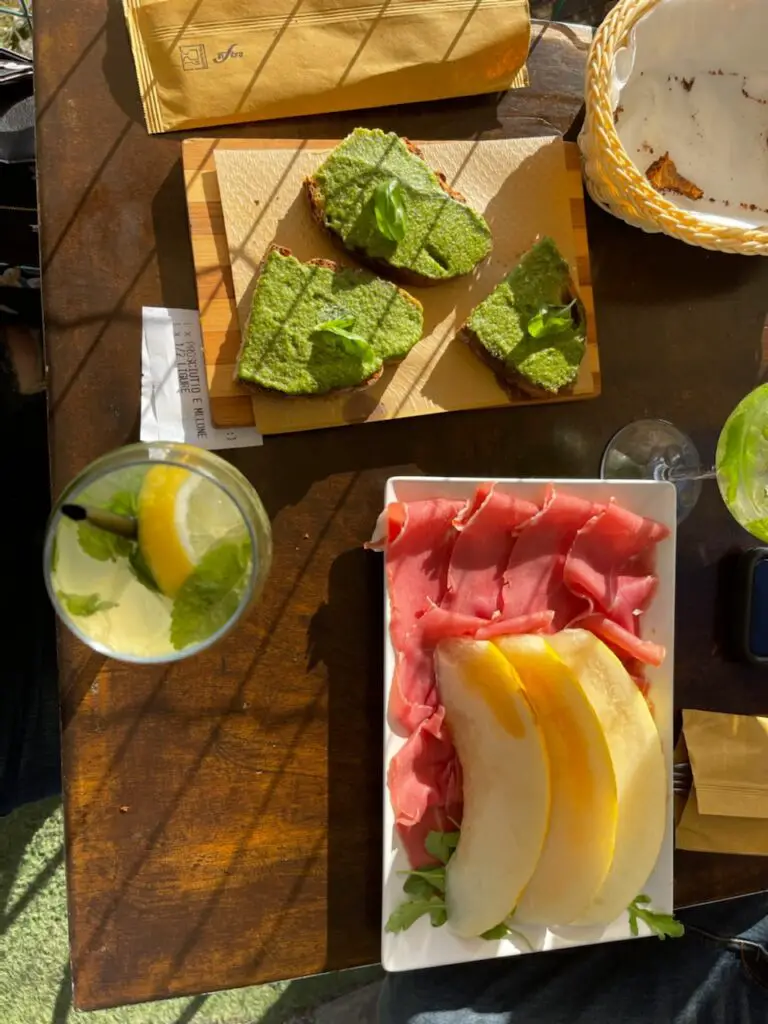 Basil and lemon are two regional items locally grown in Cinque Terre. So, try the limoncello spritz for an aperitivo. For an appetizer try ligure, which is bruschetta with pesto as an ode to the region you are visiting.
Another romantic option for the sunset, aperitivo and dinner is La Regina di Manarola. Here you can have drinks overlooking Manarola while watching the sun dip down and beautifully kiss the sea. Then, you can stay outdoors for dinner or move inside if you wish to stay. La Regina di Manarola offered pesto pasta as well as the Cinque Terre dessert wine Sciacchetra. The dessert wine is sweet, but strong like a hard liquor. I told my husband that drinking it was sort of like a sour patch– sweet, then it punches you in the face lol
Day 1 Wrap Up or Night Cap
After dinner, head back to the train to get back to the town where you stay. The later you head back, the longer you will wait for the train. The schedule indicated the train was every 15-20 minutes, but the later we waited it took 45 minutes until the next train. Tonight, either head to bed early to rest up for tomorrow or check out some local bars near your accommodations.
We went to a little bar off the public square in Monterossa that was open late and everyone was friendly, but it was loud as everyone was watching a soccer game. Not quite the vibe for a honeymoon. Another great option if staying at Hotel Porto Roca is the main hotel bar, which is open very late and it is fairly low key. It was great for a couple glasses of Moscato before bed.
Day 2
Note: If you plan to visit Cinque Terre during the winter months, day two has some options that you may only want to do April-October. In the winter, you probably will not want to visit a pool, dip in the sea, or sunbathe. Totally understandable. I do caution you to consider when going in the winter months that many of the accommodations close, restaurants close, shops close, and attractions you may want to see as a visitor may not be available.
We visited Cinque Terre from October 26-27th, leaving out by train early on October 28th. This was right before they started closing up for the winter. Here are a few other options to fill your time and experience Cinque Terre during the colder season if you decide to stay for a second day:
Nessun Dorma's Pesto Experience- availability year round
Wine Tasting, Vineyard Tour- may be very limited in winter months, if available
Farmer's Market (open in Riomaggiore on Monday mornings and Monterosso on Thursday mornings).
Start off your second day with the breakfast of your choice. If you have not had breakfast before you arrive in Monterosso, a recommendation is below.
Monterosso al Mare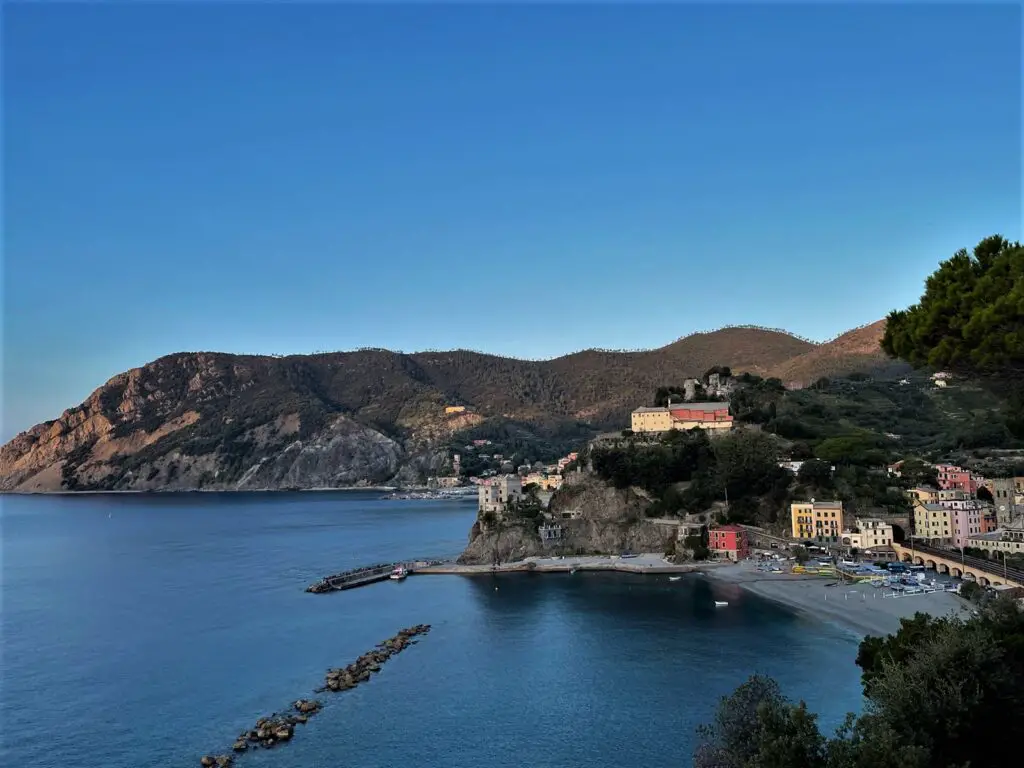 On day 2, stay in Monterosso or take the train there if staying elsewhere. If you need breakfast, check out Bar Lo Spuntino for the pastries and views of the bay as you eat! There is much to do and explore in Monterosso.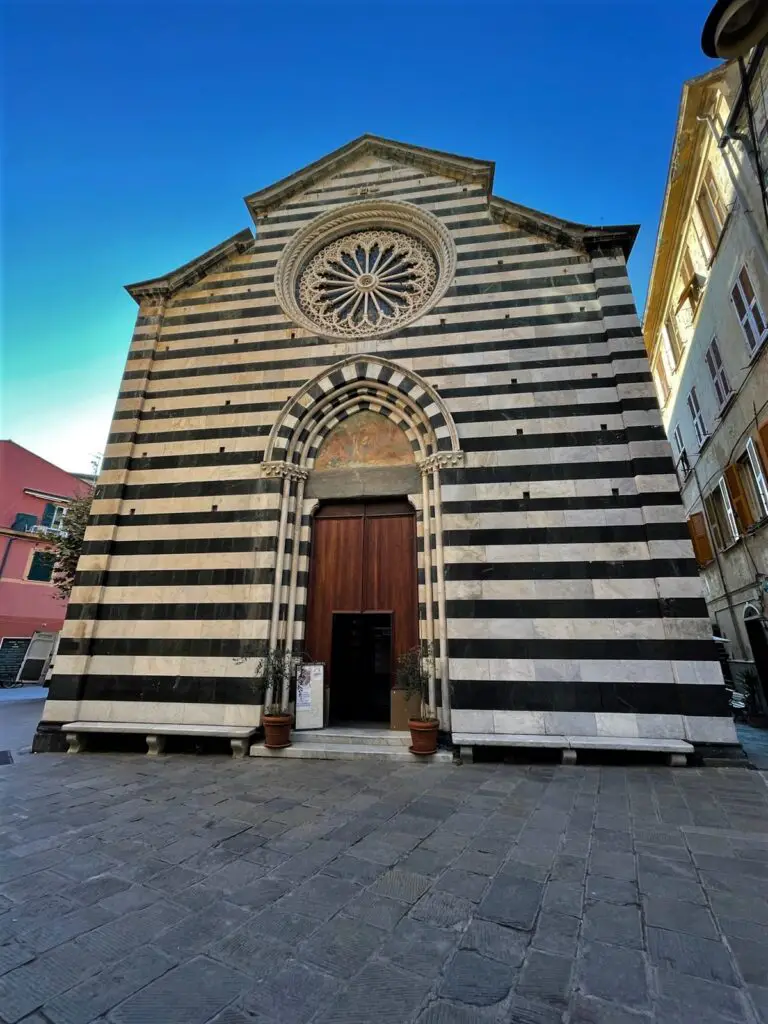 Parrocchia S. Giovanni Battista- Saint John the Baptist Parish
Mortis-Et-Orationis Confraternitas, which translated from Latin to English is Brotherhood of Death and Prayer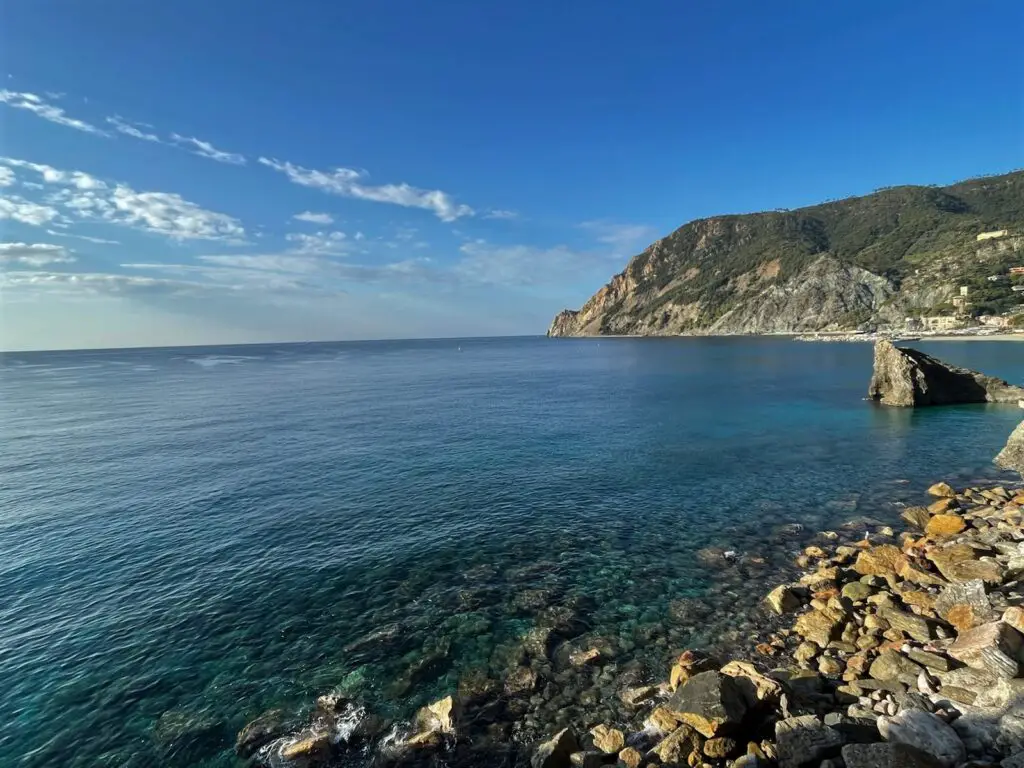 See the coastal views from the blue trail
If staying at Hotel Porto Roca, you can relax in the infinity pool if visiting in warmer months.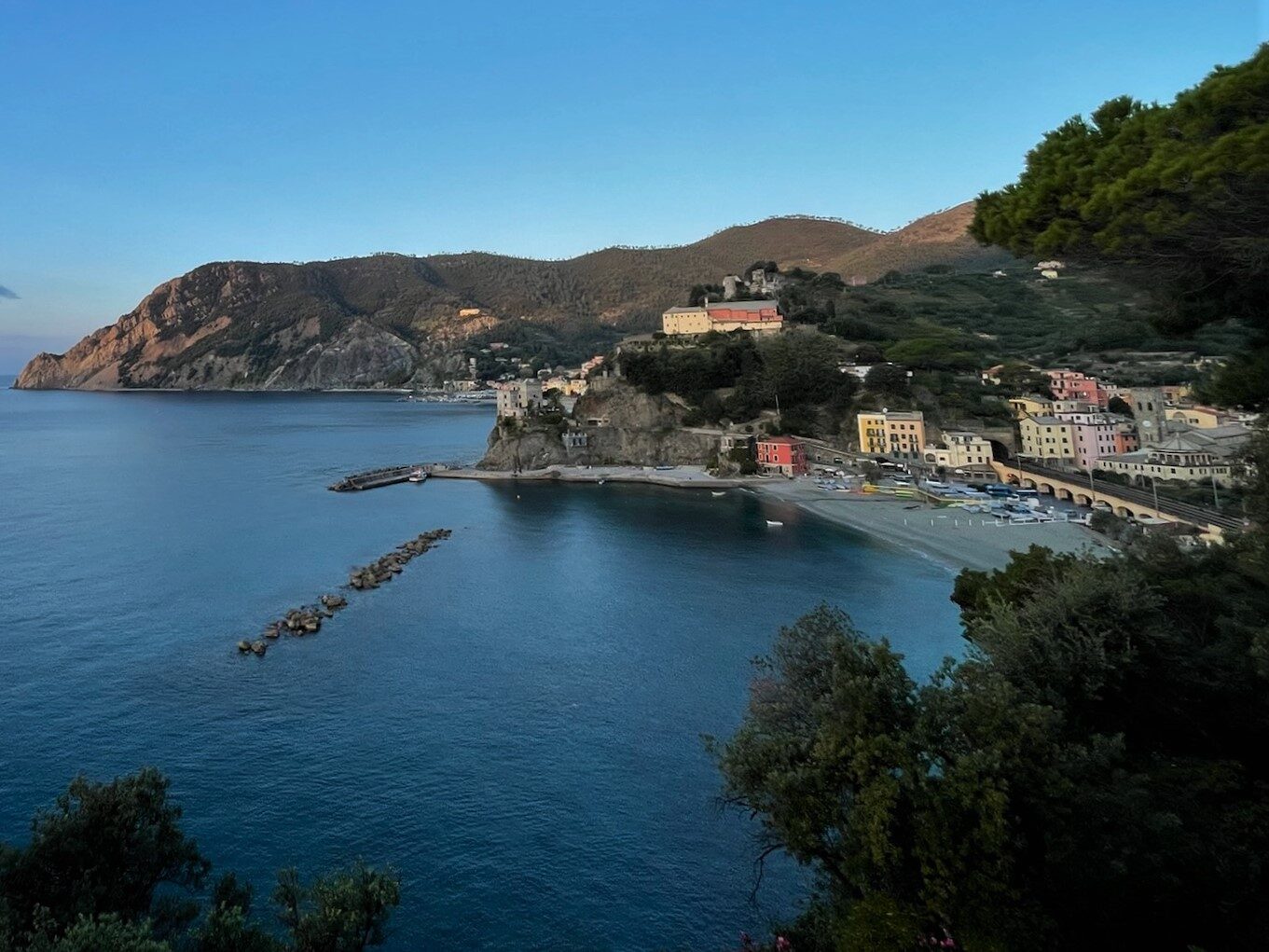 Visit the beach where you can sunbathe, frolic in the water, or just enjoy relaxing under a beach umbrella!
Vernazza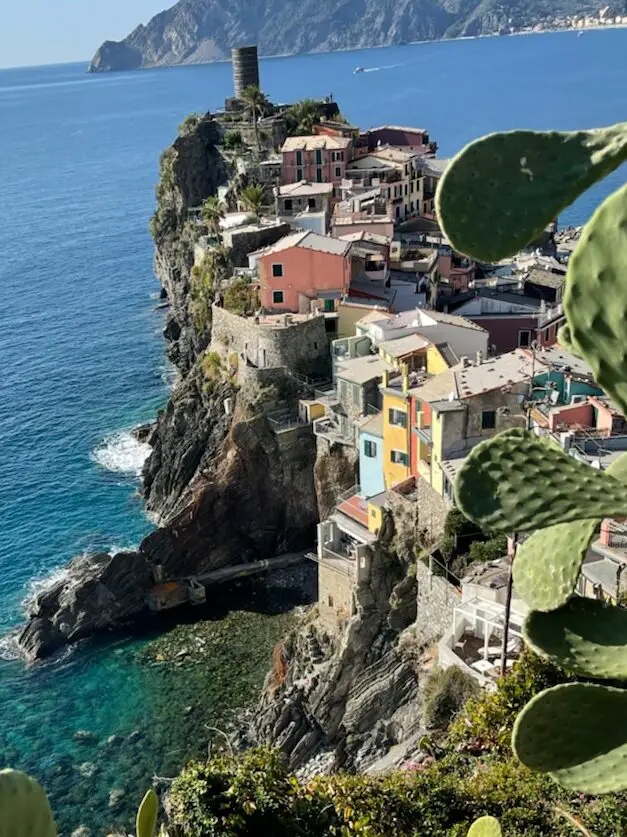 Take the train to check out Vernazza. Once there, take some time to explore the plaza and the harbor. From the harbor, you can watch the boats go in and out of the harbor. Also, in pleasant water temperatures, you will find it a great place to sunbathe or take a dip in the water right off the main town plaza.
If you are looking for an afternoon snack, Gelateria Vernazza is said to be one of the top gelaterias in Italy with the tiramisu gelato. For a meal, there are many seafood restaurants right by the harbor and they are all said to be great places to eat. We do not do seafood, so I am unable to share a review there.
Wrapping Up 2 Days in Cinque Terre
Head back to Monterosso. This will be convenient if you are staying in Monterosso to avoid long train delays later at night. You can watch the sunset from the Hotel Porto Roca if staying there or the nearby blue trail. It is a breathtaking view and there are many beautiful photography options as well.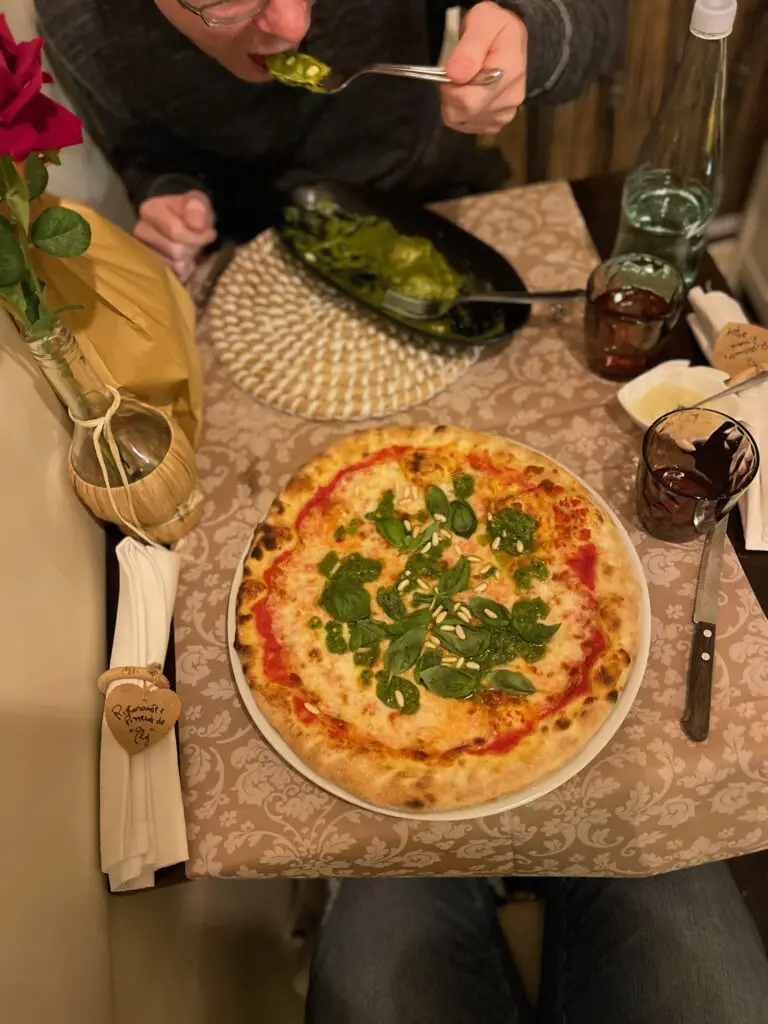 For dinner, eat at Ristorante Pizzeria de Ely. The regional pizza with tomato sauce, mozzarella, pesto, and basil on top is the best!! Spinach and ricotta ravioli in pesto is also very good. As you most likely are planning to journey ahead to another Italian city with no local airport, get a good night of sleep for your day ahead.
As you can see, it is very possible to see all 5 towns with 2 days in Cinque Terre. If you prefer to mix up the order a bit, like hike from Vernazza to Corniglia, go for it! Make it your own for your trip. If you already found an amazing place to stay in a different town, just pick out some things to do in Cinque Terre. Hope this helps you with your Italy travel planning. Enjoy your journey through Cinque Terre!
For more information on Italy travel planning, check out my other posts Best Restaurant Tips in Italy and Ultimate Italy Bucket List Experiences.